How Search Teams Deploy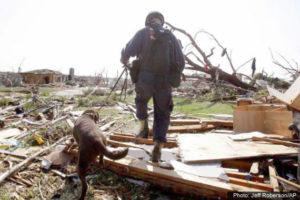 SDF provides the training and guidance necessary to prepare our teams to deploy but we do not make the call for a response since SDF does not deploy teams directly to incidents.
All SDF teams are part of either a federal or state task force, or both. This means that when a call for assistance is received through a fire department, sheriff's department or other agency, these task forces are activated to respond with a team of rescuers, including Search Dogs.
Every response is different as these urban search and rescue task forces respond to all types of disasters from earthquakes to tornadoes to hurricanes to mudslides. Because different strategies are used to search for survivors in every scenario, the Search Dogs may deploy but may not search if they are not needed. This is rare but does occur occasionally.
What is the difference between a state and federal task force?
State task forces are governed individually by each state and have their own set of operational procedures and policies. Generally, their responses are dictated by mutual aid agreements with neighboring counties and states, allowing them to respond within their own state borders and those regions nearby.
The 28 federal task forces throughout the United States are run by the Federal Emergency Management Agency (FEMA) and are deployed by the federal government to any location within the country when needed.
How do the teams deploy internationally?
Two of our federal task forces are deployable internationally: Los Angeles County Task Force 2 (CA-TF2) and Virginia Task Force 1 (VA-TF1). These task forces have the ability to deploy with a small group of 40-75 rescuers and six canines to assist foreign governments with search and rescue efforts as well as humanitarian relief in the event of a disaster.
These international task forces become known as USA-1 (Virginia) and USA-2 (Los Angeles County) when they deploy outside of the United States. Both task forces are completely self-sufficient when deployed, meaning they do not create any additional burden on the country they are assisting.
For an international deployment, the country in need must request assistance from the United States in order for USA-1 and USA-2 to deploy. Once they are called, the task forces can be gone for up to three weeks as they help search for survivors, provide medical aid and recover those lost in the disaster.
Learn more about SDF teams' international deployments to Haiti in 2010, Japan in 2011 and Nepal in 2015 on our Deployments page.
What do the canines do when deployed?
No technology can match a dog's nose when it comes to finding survivors buried in the debris of a disaster such as an earthquake, hurricane, mudslide or flooding. Large scale disasters create so much search area to cover that humans cannot possibly turn over every concrete block, every piece of wood and dig through every shell of a home.
A Search Dog's nose allows rescuers to clear a pile, meaning deem it clear of any survivors buried, without having to dig beneath the surface. This quicker, more efficient clearance, means precious time and resources can be spent elsewhere within the search area to look for survivors.
Some search scenarios are more difficult than others for the dogs but that is why SDF is building a National Training Center, to provide training on these more advanced setups before a team faces these search problems while deployed.
Learn more about the National Training Center.
What is SDF's role in a deployment?
SDF provides the initial training for Search Dogs and handlers as well as training support throughout their careers, in preparation for the teams to deploy to any type of disaster. SDF's role is to train canine disaster search teams to the highest level of deployment readiness before they face real disasters by learning from previous deployments and incorporating lessons learned into our trainings at the National Training Center.
SDF is not a deploying agency so we do not decide where or when our teams are deployed. We work closely with our teams' task forces to receive updates and photos of the teams working throughout a deployment but we do not have any influence on the search operations.
Who can I call if I need assistance in searching for a missing person?
Please call your local law enforcement agency immediately if you believe someone is missing. Every local agency has different search resources available and the most efficient way to get help is by talking with your local authorities as soon as possible to find out what needs to happen next.
How can I help SDF teams deploying to a disaster?
Donations made during a deployment do not go directly to the teams deployed but go toward the training of the next generation of Search Dogs and their deployment readiness so they are prepared for the next time disaster strikes.
Be Part of the Search: please Donate Now!