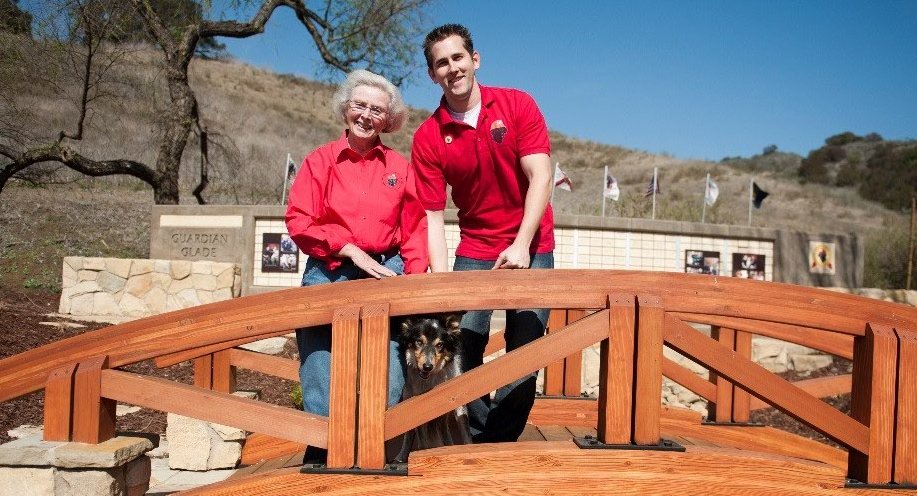 Creating a Life-saving Legacy through your Estate Gift
Planning for the Future, Today
The Search Dog Foundation (SDF) established the Guardian Endowment Fund with gifts received in response to the deployment of our teams to the September 11, 2001 World Trade Center tragedy. By including SDF in your estate planning, you will join our Founder, Wilma Melville, and nearly 300 other caring individuals who understand the significance of the canine-human bond in saving lives. The Guardian Endowment Fund ensures that SDF-trained teams will continue to be ready to respond in the wake of disasters for many years to come.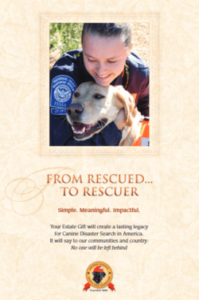 Already included us in your Estate Plans?
If you have already included SDF in your estate plan, THANK YOU! Please contact Development Director Rhett Mauck at Rhett@searchdogfoundation.org or 888-4K9HERO so we may thank you directly. There are many benefits to being an SDF Guardian, and your willingness to be listed as a member of our Guardian Community (even anonymously) encourages others to follow your example.
Ready to join the SDF Guardian Community?
For more information on making an estate gift to SDF, please download a copy of our Estate Giving brochure. If we can answer any questions, or to request a copy of SDF's Estate Giving brochure and bequest form, please contact Development Director Rhett Mauck at Rhett@searchdogfoundation.org or 888-4K9HERO.
The simplest and most popular way to include SDF in your estate plans is through a bequest—designating a specific dollar amount, asset, or percentage of your estate to SDF in your will. If you already have a will, a codicil (amendment) can easily be added to include SDF as a beneficiary. A copy of our Bequest Form is available here, or can be mailed upon request. Simply fill it out, show it to your financial advisor or attorney, and mail it back to SDF.

The Scaife Family Foundation Guardian Glade at the NTC
Every Guardian is acknowledged and celebrated with their own engraved tile in the Scaife Family Foundation Guardian Glade at the National Training Center (NTC). It is dedicated to those who have made the Search Dog Foundation part of their personal legacy, and was unveiled on September 11th, 2011.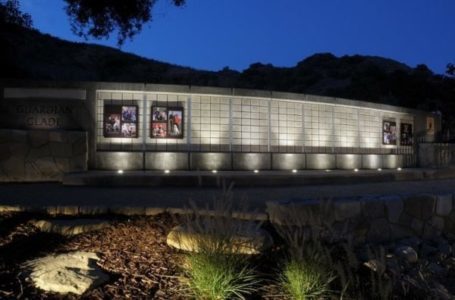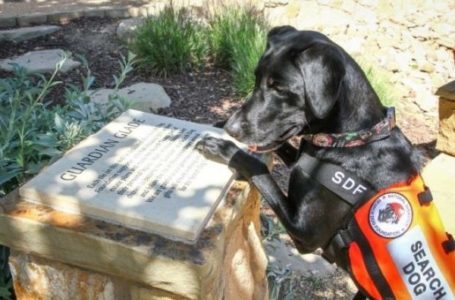 SDF Guardian Benefits
In addition to an engraved tile in the Guardian Glade, SDF offers each Guardian:
–          Invitations to special events at the NTC and in your community
–          Special Guardian updates and stories
–          The confidence that your estate gift will help SDF turn 'rescues into rescuers' for many years to come.
Meet some of our Search Dog Guardians below, or review the full list of current Guardians.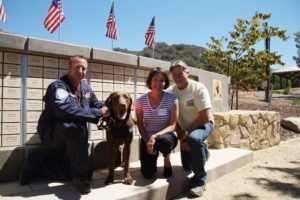 Kari and David – Rugby's Guardians
"Meeting Dennis and Rugby last fall at the National Train­ing Center was such a memo­rable day! We were extremely impressed with the Search Dog Foundation's future head­quarters, and thoroughly en­joyed spending the day with the staff and some incredible Search Teams. It's nice to see that everyone affiliated with SDF is passionate about their work. As dog lovers, we are thrilled to support an organization that takes care of animals in need and uses their incredible skills to rescue individuals in disaster situations. We are honored to be a part of SDF's Family of Guardians by providing for them in our Estate plans." – Kari and David Eisenacher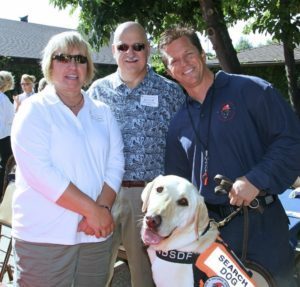 Mary and Jeff – Riley to the Rescue!
"We are so glad we placed SDF in our Estate plans and became Riley's Guardian! We wanted to make certain that the desire we share with SDF—to help both people and dogs in need—continues when our time here is done. We believe there is no better organization that brings together the human and canine spirit to serve others. We have seen that spirit firsthand in Eric and Riley. We are thankful for the important work they do and we are confident that as Estate Guardians our legacy will be carried on through the amazing canine-human bond." – Mary and Jeff Kroll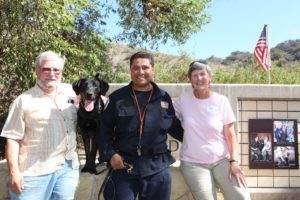 Betty and Don – Fritz's Family
"SDF exemplifies this quote from Arland Gilbert: 'When we accept tough jobs as a challenge and wade into them with joy and enthusiasm, miracles can happen.' From Wilma's founding of the agency in 1996 to today, many miracles have happened – like finding a special dog like Fritz, abandoned in an Oregon shelter, taking him through SDF's rigorous training program, his special "graduation" and being teamed with Ed. It will be another miracle when they get deployed–in far-off places or just down the road–where someone needs their help. Thank you to all for being vital parts of a great organization, which we are so happy and blessed to support through our Estate gift." – Betty and Don Krause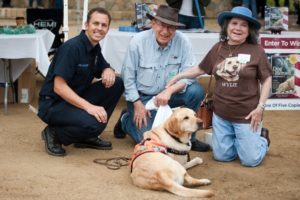 Beatrice and Gene King – Guardians from the Lone Star state
"We were so happy to meet Doug and Wylie! Doug and his family are incredibly good people, and we are so glad that Wylie is with such a wonderful family. Seeing the dogs and their handlers work was amazing. What they do and the dedication they have for their job is extraordinary. We really enjoyed meeting everyone, and seeing Doug and Wylie was a highlight of our trip to California." – Beatrice & Gordon King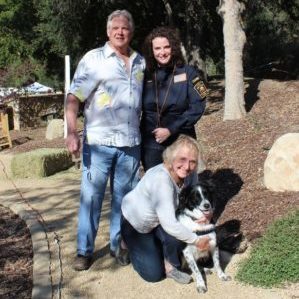 Marikay and Bill – The "Skye's" the limit!
"Visiting the National Training Center has allowed us to see, first hand, the training the handlers and their dogs receive. The SDF's Guardian Program allowed us to be a part of their life-saving work to find victims that have been buried alive after a disaster. It is something we feel blessed to be a part of! Andi and Skye are family, and it brings a feeling of pride along with tears of joy every time we hear of their experiences during deployments." – Bill Linder & Marikay Lindstrom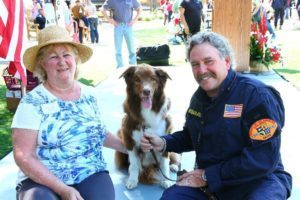 Mary Sue – Guardian of Hunter
"It was great to meet the SDF staff at a recent event at the National Training Center. The day was great and, of course, the highlight for me was spending time with Hunter and Bill. No other organization that I support even comes close to yours with the personal touches. It is a bonus to feel like such a part of the Search Dog Foundation, and not just a donor. Thank you for including me and the other guests in such a special day." – Mary Sue Berkley