The Search starts with you—at your company!
Welcome Federal (CFC) and State Employees

SDF is proud to be a partner in America's Combined Federal Campaign (find us under Animal Charities of America #11654), and the State Employee's Charitable Campaign in Arizona, California, Connecticut, Florida, Illinois, Michigan, Missouri, Montana, New Jersey, Rhode Island, Virginia and Washington.
To lend your support to the Search Dogs, please keep an eye out for your Agency Guide, and look for Search Dog Foundation under Animal Charities of America.
Give Through the United Way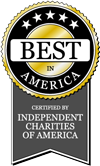 You can also designate the Search Dog Foundation as a write-in on your United Way pledge card.
Double Your Donation
Your company may match your own personal gift or a donation made through United Way. This is a great way to get the most for your donation dollar.
For information, please contact Michael Bland at michael@searchdogfoundation.org or 888-4K9HERO.